2022 Best AC Brands (Reviewed by Pros)
There are two parts of your HVAC system that you can feel at work. Your furnace and your air conditioner. The environment of your home is a combination of a bunch of different moving parts working together. However, if your AC or furnace goes out, then you're going to know quickly. It makes sense to want the best AC then. But what are the best AC brands?
Air conditioners have some of the widest range of manufacturers available for your HVAC system. You probably haven't heard of brands for ductwork, but chances are you've seen at least one or two ads for an AC unit.
In this article, we're going to talk about some of the best AC brands on the market. We'll take information from consumer reports, reviews from everyday people, and our own experience from what we've seen as HVAC professionals. We hope that by combining all three, we can give an accurate representation of the experience provided by each brand.
We'll also recommend a brand ourselves, separate from the list. This is a brand that we trust and have had a positive relationship with for a long time.
Before we get into it, let's define some terms. The keyword to know is SEER or Seasonal Energy Efficiency Ratio. While you don't need to know the exact definition, you should probably know what it means. SEER is how energy efficient your AC unit is. The higher the number, the less energy it uses to provide cooling to your home.
The current average SEER rating for HVAC units is 14 or 15. Anything below that could cause higher energy usage and a more expensive energy bill.
Top 5 Best AC Brands By Consumer Report
These are some brands that receive the best reviews from consumer reports and customers. These reviews can be read in their entirety at HVAC.com, Top Ten Reviews, and Modernize.
Each of these entries looks at a combination of technical aspects of each brand that influence efficiency, performance, and cost. We'll also cover some added value for each brand, whether that be technology integration, a history of reliability, or anything that could have a tangible positive impact on your HVAC system.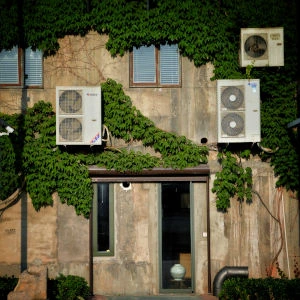 For each system, we list the average range of costs to install the unit. This is not an exact quote and the price can fall out of this range. If you want to see what could affect the cost of an AC unit, we have an article here. We'll also cover their SEER rating so that you know how energy-efficient the unit is. We'll also cover the warranties offered by the brand so that you know how long repairs will be covered.
To get a baseline, we looked at brands that placed high across several consumer reviews. We then used our own experience with these brands, as well as their technicals, to narrow it down to just 3 brands of air conditioners.
– Cost: $3,500 to $6,200 to Install
– SEER: 13 – 22
– 12-year warranty for the compressor. 10-year parts warranty
– Reliable and Low Maintenance
American Standard is a long-lasting name for HVAC machines. Their systems run along the middle of the average price range for installation. They do also offer a range of models that go from average to very good energy efficiency. Their warranty is lengthy and offers extra protection on the compressor, meaning they stand behind their product. They also have some of the lowest recorded numbers for service calls and repairs needed after installation.
– Cost: $4,900 to $7,200
– SEER: 13 to 22
– 10-year general warranty
– Easy to work with customer service
Carrier is another well-known name in the industry. They make sophisticated systems that offer a variety of control options. They run along the high end of the middle as far as costs are concerned. The SEER ratings of their models run from average to very good. They also have well-reviewed customer service can respond quickly and professionally over the phone or email.
– Cost: $7,000 to $20,000
– SEER: 14 to 24.6
– 10-year parts warranty after registration
– Most Trusted by Lifestory Research since 2015
Trane has won the Most Trusted award by Lifestory Research every year since 2015. This has made them one of America's most well-reviewed brands in recent history. Their units are more costly than their competitors, but they are very smart-home-friendly. Their models offer SEER ratings from average to excellent. They offer a 10-year warranty on parts but only after registration, meaning there's a bit of extra footwork for the customer.
Our Pick For Best AC Brand
Now that we've given you the top three best AC brands by consumer reviews, who do we recommend? At Advantage, we recommend Daikin. Daikin is the largest manufacturer of HVAC equipment in the world.

– Cost: $2,700 to $8000
– SEER: 13 to 24.5
– 12-year general parts warranty / 12 or 6-year replacement warranty for select models
– Multiple Awards and Innovative Technology
– Commitment to People
Daikin's cost to install runs the range but doesn't get absurdly high. The SEER rating of their models goes from average to excellent. They also offer a 12-year general parts warranty or a total replacement warranty for 12 or 6 years on select models.
They have also received multiple industry awards for quality and innovation. They are a technology leader and have innovated new systems that allow their systems to run efficiently, earning them several design awards.
Daikin's Commitment To Us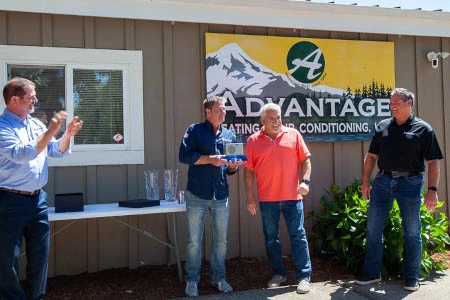 Daikin is committed to providing the best experience to the people they work with. That means their customers, their employees, and even us as a business partner. They take care of their employees and partners by providing excellent training and support resources.
They also honor their warranties quickly and without hesitation. Daikin also manufactures products in the United States. While other companies are outsourcing more and more, Daikin remains committed to providing locally made products.
Best AC Brand Versus Best AC Craftsmanship (Does Brand Truly Matter?)
In our post discussing the cost of adding AC, we found that the key defining factor for the cost of the installation was the quality of the contractor who installed the system. If you noticed across our top 3 brands, they all offer similar performance in terms of energy efficiency.
All the price ranges also intersect. While the exact price can fall out of range, and cannot be determined without a visit from a sales professional, two different brands may quote you the same number. Most reputable brands will also offer a good warranty between 5 to 10 years, hopefully longer.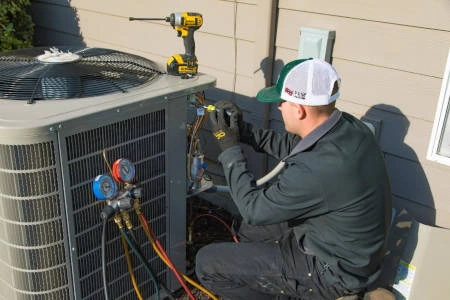 So if the efficiency, price, and warranty are all within a similar range across the hardware of a new AC unit, why do customers report having different experiences, costs, or failure rates based on what company they went with? That largely depends on the installer who will put the system into your home.
Installation Determines Performance
A company that employs high-quality technicians won't just place your brand-name AC unit on a concrete slab, turn it on, and leave you with an invoice. They will consider the entire system and find a model that works with your specific needs.
This could be the difference between reducing overall energy use to spending 20% more just on the energy required for your AC unit. Yes, that's a real statistic. Some AC units increase energy usage unnecessarily.
You may have a brand that you feel loyal to. However, the big difference maker is the quality of installer you choose.
Who Are Advantage Heating & Air Conditioning,LLC?
We are your local HVAC Experts out of Salem, Oregon. We hope that gave you the information you need to make an educated decision when purchasing your new Air Conditioning unit. If you have other questions about HVAC systems, check out our other blogs. To learn more about who we are and how we can help you, visit our website and follow us on social media – we're here when you need us!